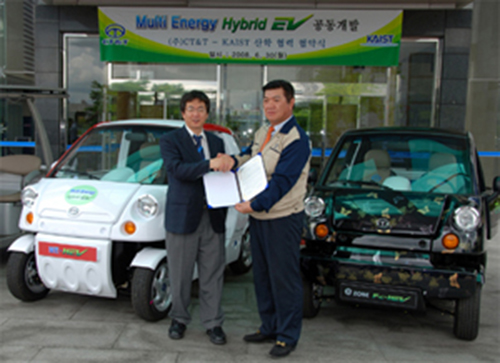 KAIST exchanged a memorandum of understanding for the development and production of a multi-energy plug-in hybrid electric car (ME-PHEV) with CT&T, an electric car maker, on Monday (June 30).
The ME-PHEV is a new vehicle model incorporating a small electric generator and solar energy as power source with conventional plug-in hybrid electric vehicle with rechargeable batteries. The new vehicle has been jointly developed by a research team led by Profs. Soon-Heung Chang and Yong-Hoon Chung, at the department of nuclear and quantum engineering, KAIST, and CT&T.
The ME-PHEV features an increased mileage, improved battery durability and better passenger convenience compared to conventional hybrid vehicles. The joint developers have applied for domestic and international patents.
Prior to the MOU signing ceremony, Prof. Chang, who is also a vice president of KAIST, had a trial ride of the vehicle for the media at the KAIST campus.
"Major car makers of the world currently focus on developing hybrid electric vehicles with battery and internal combustion engine. Compared to these cars, the ME-PHEV offers advantage in terms of reduced air pollution and lowered production costs," said Prof. Chang.
Under the agreement, CT&T will put the features of ME-PHEV into e-Zone, the company"s city-class, low-speed electric vehicle model, with a schedule go into commercial production of the car next year.